Individual
Why our insurance is great for individuals:
Cover available for Emergency Medical Expenses up to £5 million
24/7 Emergency Medical Assistance helpline
Cancellation cover available for up to £5,000 per person
Summary
Whether the insurance is for you, or you are buying it for your kids, our TUI Travel Insurance is underwritten by AXA. So you can rest assured you are travelling with that extra peace of mind.
What we cover as standard
Emergency Medical Expenses
Cancellation or Cutting Short your Trip
Over 100 sports and activities covered as standard
Personal Belongings and Money
What cover you can add
Winter Sports
Sports & Activities (above the standard cover)
Option to reduce excess to £0
---
Frequently Asked Questions
Where can I get my documents?
You can download your documents after purchasing your policy. The documents are all available online via a login so you can return to at any point. You can print them or keep them on your phone in the event of a claim.
Someone told me I should get an EHIC. What is it?
If you are travelling to countries within the European Union (EU), the European Economic Area (EEA) or Switzerland you are strongly advised to obtain a (EHIC). You can apply for an EHIC either online at www.ehic.org.uk or by telephoning 0300 330 1350. This will entitle you to benefit from the health care arrangements which exist between countries within the EU/EEA or Switzerland. Be careful of other website that will often try and charge you for an EHIC card.
An EHIC will not cover treatment in private clinics nor will it cover the cost of getting you home. An air ambulance from Europe to the UK could cost in excess of £25,000.
I'm thinking about going on safari whilst I'm away. Is that covered?
A safari is covered under the standard policy for no extra charge. Please check your policy booklet for full information.
What happens if I fall ill during my trip?
Don't worry- you can contact us 24 hours a day on our emergency medical helpline. Of course if it's a medical emergency, call an ambulance. As part of our policy, if you are required to stay in hospital for an extended period of time, we can arrange for a family member to be flown out to be with you.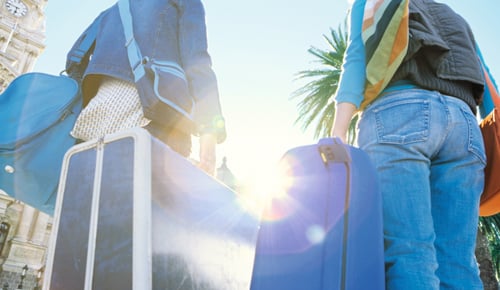 Before You Go
25th November 2020
Heading off on your holidays is exciting, but before you leave the house have you done everything you needed to do?
Find out more
Did You Know?
travellers went abroad last year without insurance*
*ABTA travel insurance survey, May 2018
About Us