Weekend Cover
Why our insurance is great for weekend breaks abroad:
Missed departure cover up to £500
Personal Belongings cover available up to £3,000
24/7 Emergency Medical Assistance helpline
Summary
Weekend breaks are about cramming as much as you can, into a short space of time. Our TUI Travel Insurance, underwritten by AXA, can be purchased online in minutes, meaning you can get on with your packing.
What we cover as standard
Personal Belongings and Money
Over 100 sports and activities covered as standard
Emergency Medical Expenses
Cancellation or Cutting Short your Trip
What cover you can add
Winter Sports
Sports & Activities (above the standard cover)
Option to reduce excess to £0
Frequently Asked Questions
If I fall ill, how will AXA help me?
By choosing AXA, you can rely on us to arrange your medical treatment for you. Our emergency medical team will organise the care you need, including air ambulances and doctor escorts where necessary.
What will I be covered for if I miss my flight?
You will be covered for reasonable additional accommodation and travel costs, up to the limit in your policy, that you had to pay in order to reach your overseas destination or return to the United Kingdom, if you fail to board the public transport on which you are booked to travel on for the initial international outbound and return legs only of the trip as a result of:
the failure of other public transport or
an accident to or breakdown of the vehicle in which you are travelling or
an accident or breakdown happening ahead of you on a public road which causes an unexpected delay to the vehicle in which you are travelling or
strike, industrial action or adverse weather conditions
Please refer to the policy booklet for the full terms and conditions.
Am I covered as soon as I get the travel insurance reference number?
For single trip travel insurance your cancellation cover starts from the date we issue the policy – when you receive your reference number. The rest of your cover will start on your intended departure date.
For annual multi-trip travel insurance your cancellation cover begins from the start date of the policy which you can choose.
If I've got an EHIC do I need insurance?
If you are travelling to countries within the European Union (EU), the European Economic Area (EEA) or Switzerland you are strongly advised to obtain a European Health Insurance Card (EHIC). You can apply for an EHIC either online at www.ehic.org.uk or by telephoning 0300 330 1350. This will entitle you to benefit from the health care arrangements which exist between countries within the EU/EEA or Switzerland. Be careful of other website that will often try and charge you for an EHIC card.
An EHIC will not cover treatment in private clinics nor will it cover the cost of getting you home. An air ambulance from Europe to the UK could cost in excess of £25,000.
Do I need to tell you if I develop a new medical condition after I buy my travel insurance?
Unlike some other insurers, we do not require you to tell us about changes to your health during your period of insurance as detailed on your schedule. However, you should consult your doctor before your trip to confirm you are able to travel. If you have your doctor's permission, you'll be covered by us.
When you renew your policy or arrange a new quote, you must tell us about any changes in your health. Our advanced medical screening makes it easy to do this online or by phone.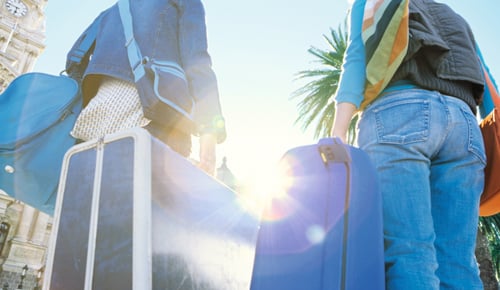 Before You Go
18th October 2017
Heading off on your holidays is exciting, but before you leave the house have you done everything you needed to do?
Find out more
Did You Know?
people like to visit a new resort or city when they go on holiday*
*ABTA travel trends report 2017
About Us