Travel Insurance for Crystal Ski Holidays
Why our travel insurance is great for winter sports
Cancellation cover available for up to £5,000 per person
Cover available for emergency medical expenses up to £5 million per person
Provides a daily benefit up to a maximum of £300 if weather conditions cause closure of your resort (Winter Sports Upgrade required for this cover)

Remember you need to select the Winter Sports Upgrade to be covered for your winter sports holiday.
Summary
Over 12 million people hit the slopes every year. Our TUI Travel Insurance, underwritten by AXA Insurance UK PLC, can be purchased online in minutes, meaning you can put your mind at rest and start your packing! So whether you are off to the French Alps on a beginners skiing holiday, or heading further afield to Canada for a luxury break in a top of the range chalet, we've got insurance to cover you. The Winter Sports Upgrade we offer here at TUI can be added to your policy to ensure piece of mind and allow you to relax and enjoy your break.
Terms, conditions, exclusions, eligibility apply.
What we cover as standard
Cancellation or Cutting Short your Trip
Emergency Medical Expenses
Disruption or Delay to Travel Plans
Personal Belongings and Money
What cover you can add
Winter Sports
Sports & Activities (above the standard cover)
Option to reduce excess to £0
Frequently Asked Questions
Why would I need the Winter Sports Upgrade?
The purpose of this upgrade is to provide cover specifically for a winter sports trip that involves activities or sports that are played on snow or ice. It's important to check the list of covered activities to ensure that any activities that you plan to participate in as part of your winter sports trip are covered. You need to select the Winter Sports Upgrade in order to add this cover.
Do you provide cover for air ambulance mountain rescue and repatriation?
Yes, repatriation costs fall under your policy's emergency medical section. Our medical team will review what is medically necessary and our repatriation team specialise in making the necessary arrangements.
Will I be covered for skiing off piste with the Winter Sports Upgrade?
The winter sports upgrade does include cover for skiing off piste as long as it is within the resort boundaries, however cover is excluded for this activity under sections 5: Legal and Liability.
I have an EHIC, will I need to get winter sports cover upgrade?
If you end up at a privately run clinic or hospital your EHIC may not be accepted. When it comes to mountain rescue or medical repatriation, the EHIC is of no use at all. Additionally, an EHIC won't cover losing your skis or pay out if there's no snow in your resort.
I will be hiring ski's will this be covered under any section of the policy?
You will be covered for £250 for accidental loss, theft or damage and also up to £250 for any unused portion of your hired ski equipment.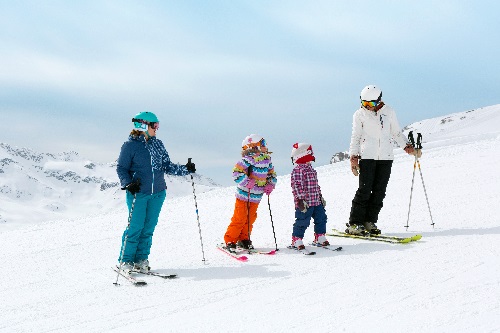 Keeping kids warm and dry whilst skiing
1st September 2018
Happy children make for a happy skiing holiday, so here's some top tips to help you on your way
Find out more
Did you know?
France, Italy & Austria
are the most popular winter sports destinations in Europe*
*ABTA website 2018
Read more